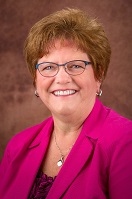 MiOTA Member Spotlight:
CHRISTINE CLAYTON, OTR/L, MSA, NHA
Christine Clayton is the Director of Physical Medicine and Rehabilitation services at Mary Free Bed at Covenant HealthCare. Outside work, Christine loves to read, and bike. She enjoys spending time with family, going on vacations and camping.
Here is her inspiring story in her own words:
I graduated with a degree in Occupational Therapy (OT) from Eastern Michigan University in 1985. My Level II clinicals took me out of state to Harmarville, PA and Sykesville, MD where I got to experience inpatient rehabilitation & mental health OT. I returned to home to become the first full time Occupational Therapist for St Luke's Hospital in Saginaw, MI.
As I began treating and teaching patients and collaborating with an interdisciplinary team, I realized my passion and mission was to influence on a much bigger scale. So, I pursued a Master of Science Degree in Administration from Central Michigan University which supported my Leadership Career at Covenant HealthCare. I have organized, developed, and led operations in the continuum of healthcare including Acute care, Inpatient Rehabilitation, Skilled Care, Outpatient Therapy and Autism Diagnostic and Treatment Services. I also, serve as the Liaison for Long Term Acute Care. I led management and therapist teams across this continuum to be highly engaged and focused on patient experience, outcomes driven and fiscally responsible to keep OT and Rehabilitation Services viable and thriving for the benefit of the clients we serve.
My career has afforded me the opportunity to navigate not only the development of the continuum of care but also the growth and advancement of services. I successfully operationalized mergers, joint ventures, opened and closed a Covid Relief Facility with continued focus to provide for the needs of those in our community.
I have been a member of MiOTA since 1985, recognizing the importance of my voice and that supporting OT starts with my participation in our professional organization. I served as Director at Large (2001– 2004) and Chair of Membership (1997). I believe we have the responsibility to advocate for our profession and the patients we serve. Being a member not only supported my personal growth development but the development of OT services in our communities. Our future in our hands and the hands of the next generation. We must encourage and engage by networking, collaborating, and voicing our concerns/ideas to improve reimbursement and access to our services. I have experienced, witnessed, and participated in much change over the last 35 years. I continue to look forward to a bright future of many possibilities.
If you would like to be highlighted or would like to nominate a MiOTA member, please email us at
website@miota.org
or to Ray Roche at
renukaroche@gmail.com
---
MiOTA's Statement on Inclusion, Diversity, and Occupational Justice
Amidst the suffering that the state of Michigan has experienced due to the COVID-19 pandemic, we now join the nation in grieving the deaths of Amaud Arbery, Breonna Taylor, and George Floyd. Most recently, the murder of George Floyd by four police officers in Minneapolis has revealed the virus of racism that has been present through our society largely unseen and unaddressed for decades. The murders of Ms. Taylor, Mr. Arbery, and Mr. Floyd have unleashed a massive protest movement across the country. These protests are the expression of years of pent-up frustration with racism and inequality.
As an association and members of a profession that espouses the ideals of inclusion, diversity, and occupational justice we cannot remain silent regarding the events of the past week. Our actions and inactions send a strong message about what we think and what we believe. The structural violence and systemic racism that has existed for years within our nation has once again been brought to light with the unnecessary killings of Mr. Arbery, Ms. Taylor, and Mr. Floyd. In addition, over the past two and half months, in the State of Michigan and across the nation, we have been witness to the disparities and equities as African Americans die in greater numbers due to COVID-19.
We must openly denounce the attitudes and beliefs that result in yet another person of color being killed at the hands of those who are charged with serving and protecting. We must also work to address the medical and economic crisis that exists in marginalized communities of color. Our professional commitment to inclusion, diversity, and occupational justice requires that we not only have conversations about occupational justice but that we act to address the social conditions that restrict what people can do and what they can be. As occupational therapy professionals, we must be agents of healing for individual bodies, for our communities, for our state, and for our society.