Happy OT Month!
MiOTA Member Spotlight:
Dr. Barbara Rider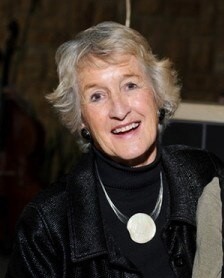 When did you join MiOTA?
I joined MiOTA in 1976 when I moved from Kansas to Michigan to be Chair of OT at WMU.
Where did you go to College?
BS in Occupational Therapy. University of Wisconsin, Madison. 1954 (We graduated first, then did field work… we called Field Work, "Affiliations".
MS in Special Education. University of Kansas, Lawrence. 1973
PhD in Educational Administration. University of Michigan, Ann Arbor 1987
Where have you worked?
When I finished field work (1 month GMS, 3 month psych; 3 months -physical disabilities, 3- Pediatrics, 2 months Tuberculosis), I went to Japan to join my husband. 2 weeks by ship . Korean War. My psych affiliation was at Camarillo State Hospital in California. It was just before Thorazine, so I saw mental health BEFORE the psychotropic drugs.
Pediatrics was Children's Hospital, San Francisco. The polio epidemic was still raging. We treated kids in Iron lungs. We made splints from plastic, cutting them out with a coping saw, shaping with a bunson burner; usually they cracked and had to be re-made.
Phys Dis was many post-polio adults, teens. We worked on dressing and other ADL and IADL skills. Crafts.
When we returned from Japan, I worked at Madison General Hospital. When I got pregnant, I had to quit. The message to women in the 1950's was: The "boys" need the jobs. They had sacrificed their lives for us. Girls should marry, have 3.4 children, and if you worked, your children would be delinquent.
Several years later, it became necessary for me to go to work. We had 3 children, the baby wasn't quite 1 year old. I was so unsure of myself that I didn't apply for the OT job that was available. ( I couldn't remember how to end the lacing on a wallet!) so I applied for a job at Penny's. They didn't hire me so I applied for the OT job at the VA hospital and was hired. Luckily, I had good Aides. OT was groups of 30+ chronic schizophrenics, all men. We did a lot of woodworking, small chairs, doll houses and other children's furniture and toys which we delivered to local pre-schools. It was wonderful to see the smiles on the men's faces when a child ran up to show him her new toy. There were incidents. I remember one day, the Aids and most patients had left, but Mr Jones was behind, a stream of cuss words, his usual "conversation". He had had double lobotomies. Mr. Love was just leaving also and emerged from his usual Hallucinations and went after Mr. Jones with a hammer. I told Mr. Love firmly, to "Put down the hammer" and he did. Thank God.
The Topeka VA was associated with the Menninger Foundation, the Mayo Clinic of Mental Health. I had the opportunity to meet Margaret Mead, Elizabeth Kubler Ross, Anna Freud and others. It was the mid -to-late 1960"s , the time of LSD and Timothy Leary. LSD was outlawed, but the VA got special permission for an experimental alcoholic treatment program using LSD. Part of my role in the program was to have each patient paint a picture (of anything) before his "experience" and another painting immediately after. The psychiatrists used the paintings in individual therapy. I regret that I didn't know anything about research: the paintings would have been a rich source of data. I also had the opportunity to develop and implement a research study with Lorna Jean King. The research design used person drawings.
I left the VA to direct the OT Program at the Capper Foundation for Crippled Children in Topeka. Rood, Fiorentino and Jean Ayres were just emerging in the literature. I was a skeptic so I devised a research study. Rood won Brushing, icing, tapping over the muscle belly did increase muscle strength. I wrote it up and sent it to AJOT. It came back…RED. Months later I got letter from AJOT editor asking me to re-submit, It was published. I was asked to chair the AOTA Publication Committee, which I did. We presented the first Writers Workshop at AOTA Annual Conference.
At Cappers, I worked with a teacher to develop activities based on Ayres' theories and I started graduate school in Special Education at the University of Kansas (KU). I also taught a course at KU.
I returned to the VA briefly as Chief OT, but left to teach full time in the Occupational Therapy Program at KU.
KU had a fine OT Program. We admitted on a first-come basis, except one time when Bob Dole's daughter applied to an already full class. (Bob Dole was a popular Kansas Senator. He ran for President and sponsored the Americans with Disabilities Act. The ADA) You bet, we admitted Robin Dole. .Sometimes rules have to be broken.
I learned one of my most important life lessons at KU, and so did my students. I taught the crafts class. 36 students. I knew how to knit, but I didn't know how to crochet and I had to teach both. I arranged for three women patients from the VA who knew how to crochet to come over to KU and teach the students. Remember, these were the days of big institutions and locked wards. These ladies demonstrated some rather unusual behaviors, but they were fine as long as they could dash across the hall to get a cup of coffee and smoke a cigarette. All the students learned to crochet. And so did I. But most importantly, we all learned that you can learn from anybody., everybody.
At KU, we noticed that a large number of students dropped out after two years. They had nothing, so we built a COTA Program. I tried to do the same years later at WMU, but I was unsuccessful. You can imagine how pleased I am that WMU is now implementing a CODA Program.
I moved to Michigan in 1976 to Chair the Occupational Therapy Program at WMU. I had had Western Fieldwork students at the VA, and they were the best. I started summer of 1976, The College of Health and Human Services was formed that summer, and the WMU Faculty Union was formed. The Union decided to strike the first day of classes. Only one OT faculty member went on strike.
Over the years, we hired faculty with strong research and publication records Each masters; graduate was required to develop and execute a research study. Many publications were generated. Many faculty were co-authors of their students' research publications and WMU – OT Program became known as a strong research program.
The faculty and students were creative and energetic. We developed a "Return to Work Program" for occupational therapists who had dropped out of practice, usually to marry and have children. The program focused on skills they needed to update their practice to return to OT. It was taught through Continuing Education to reach a broad population. AOTA eventually took it over.
OT students did accessibility assessments of businesses and services in Kalamazoo, organized the data into books which were available free at Rest Stops and at the Chamber of Commerce. We even developed a publication, "Research That Never Got Published". It didn't fly.
After 10 years, I stepped down as Chair. I remained on faculty for several years. During the years I had been Chair, I had become involved in several community causes and organizations related to Health Care. I was elected to two terms on the Kalamazoo County Board of Commissioners and one appointed term. I served 20 years as member and chair of Kalamazoo County Department of Social Services Board.
I retired from WMU in 1991. Fred and I wanted to travel more.
But you can't get OT out of your soul.
I worked with an attorney. I performed work capacity evaluations.
I was part owner with three OT's of a rehabilitation business (PT and OT) in Grand Rapids from the 1980's through mid-1990's.
I worked (very part time) with a small group of OT's to provide OT Services to Developmentally Disabled persons in group homes, their homes, and at a Day Treatment Program, until I was 85 years old.
BIGGEST Highlight in my career.
I've mentioned many, but I remember the moment when I suddenly realized I had value. It was at the VA. I don't remember the reason, but I realized that the other staff… nurses, doctors, others, valued what I did as an occupational therapist. From that moment on, I've had confidence… OT did that for me.
Value of MiOTA
I had belonged to Kansas OT Association and AOTA, so the move to MiOTA was logical. I believe it is a professional responsibility to belong to and support one's professional organization.
When I joined MiOTA, it was MOTA. There was no paid staff. We were a totally volunteer organization. In those early years, I was elected vice president. It was the job of the VP to put on the annual conference. We planned a Beach Resort Conference, complete with bonfire and hot dogs and smores on the beach. We stayed in cabins. As you can imagine, some folks liked it and some DIDN'T. It was a stretch from the usual. Membership in MiOTA opened me to new colleagues and many opportunities. I was selected by AOTA to write the first official statement about the role of Wellness in OT. MiOTA is still a very important part of my life… and I'm 89 years old!
---
MiOTA's Statement on Inclusion, Diversity, and Occupational Justice
Amidst the suffering that the state of Michigan has experienced due to the COVID-19 pandemic, we now join the nation in grieving the deaths of Amaud Arbery, Breonna Taylor, and George Floyd. Most recently, the murder of George Floyd by four police officers in Minneapolis has revealed the virus of racism that has been present through our society largely unseen and unaddressed for decades. The murders of Ms. Taylor, Mr. Arbery, and Mr. Floyd have unleashed a massive protest movement across the country. These protests are the expression of years of pent-up frustration with racism and inequality.
As an association and members of a profession that espouses the ideals of inclusion, diversity, and occupational justice we cannot remain silent regarding the events of the past week. Our actions and inactions send a strong message about what we think and what we believe. The structural violence and systemic racism that has existed for years within our nation has once again been brought to light with the unnecessary killings of Mr. Arbery, Ms. Taylor, and Mr. Floyd. In addition, over the past two and half months, in the State of Michigan and across the nation, we have been witness to the disparities and equities as African Americans die in greater numbers due to COVID-19.
We must openly denounce the attitudes and beliefs that result in yet another person of color being killed at the hands of those who are charged with serving and protecting. We must also work to address the medical and economic crisis that exists in marginalized communities of color. Our professional commitment to inclusion, diversity, and occupational justice requires that we not only have conversations about occupational justice but that we act to address the social conditions that restrict what people can do and what they can be. As occupational therapy professionals, we must be agents of healing for individual bodies, for our communities, for our state, and for our society.