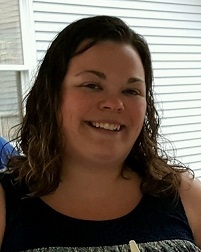 MiOTA Member Spotlight:
Kimberly Ganzevoort, COTAL, CBIS, CCCE
Kim Ganzevoort works at Spectrum Health Inpatient Rehabilitation Center as an occupational therapy assistant/coordinator of clinical education and is a part-time instructor at Western Michigan University.
In 2008, she graduated from the Occupational Therapy Assistant Program at Grand Rapids Community College. She is currently working towards Bachelor's degree in health sciences at Western Michigan University. She is also a certified brain injury specialist.
Outside work, she enjoys playing cards and board games with friends, spending time with her family and being part of her church's praise and worship team. Kim shares her new (first) home with her husband and says, "We enjoy working on projects to spruce up our new house and are competitive in nearly all we do together".
Kim loves being an OTA. When asked what inspired her to join the field, she replied, "Funny story! My mom has worked in rehab for over 20 years now and I would frequently go up to the facility for parties, outings, and to spend time with the residents. I would read to them and assist in-group activities. One day I asked the activities director what I needed to study in school to do this for a living. She told me OT! While her answer probably should have been recreation therapy, once I started school I fell in love and would not change it for a thing."
She enjoys building connections with local colleges and universities, working to get their students in to Spectrum Health hospitals and rehab settings and getting OT field experts into University classrooms. Kim states, "I think I am most proud of an interdisciplinary educational experience that I co-developed with a Site Coordinator of Clinical Education from Spectrum Health and Grand Valley State University (GVSU) instructors. In one day, we had 100 students from GVSU's PT and OT programs come to the Inpatient Rehab Center in small groups to work with actual patients while learning how to administer functional assessments." While it was being planned for several years, this experience was streamlined and implemented last Fall with great success. She further says, "We had plans to complete it again this year prior to the pandemic, we are now looking for alternative ways to provide a similar experience".
Kim presented at last year's annual conference in Frankenmuth. Kim asserts as a MiOTA member, "I love not having to search for the latest updates in our field regarding the ever-changing legislation. MiOTA keeps me informed and up to date. I also appreciate the monthly continuing education opportunities."
If you would like to be highlighted or would like to nominate a MiOTA member, please email us at: website@miota.org or to Ray Roche:
renukaroche@gmail.com